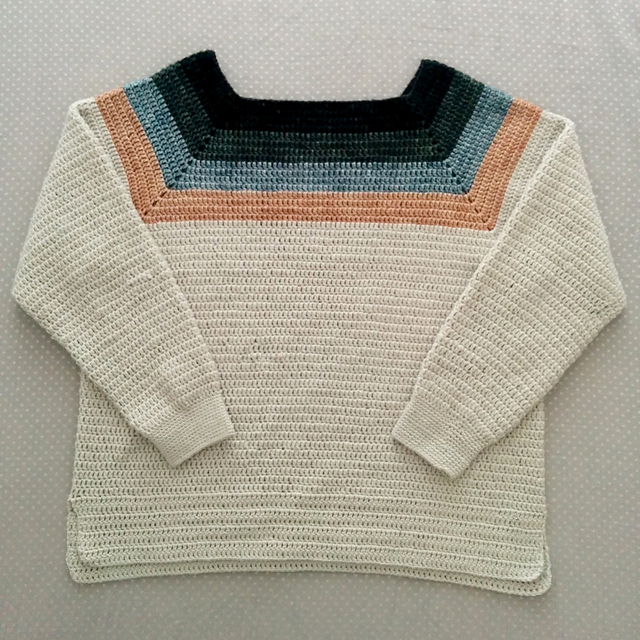 In anticipation for my own new sweater design, I thought it was nice to see the pretty sweaters other indie designers have published on Ravelry. I selected a few (paid and free) to get your hands on. In this oversight I only show patterns that are directly available online, like my patterns and all are pullovers, like my upcoming pattern.
Paid patterns 
Siesta sweater by Michelle Ferguson  copyright Sweet Life Photography by Kim
Flowers and Tiles top by Elena Fedotova copyright Ravliki
Eventide by Joleen Kraft copyright  Joleen Kraft
Seasons sweater by Ana Tenorio copyright Ana Tenorio (Tía Nuna) 
Striped shirt by Maria Attefalk copyright Maria Attefalk
SaperliPOPette boxy sweater by Sylvie Damey copyright Sylvie Damey
Santa Maria del Pi by Kiko Valin copyright kiko valin
Relaxed crochet sweater by Judit Hummel  copyright Judit Hummel
Basket weave sweater by Ingunn Santini copyright Sophie and Me-Ingunn Santini
Sweetheart Sweater by Vicki Brown copyright Tailor Made Publishing
Shell's Summer Sweater by Amy Price copyright Amy Price
 Maximum by Nicki Hirsch (Tunisian Crochet) copyright Nicki Hirsch
Free patterns 
Rebel by Brenda Grobler copyright Nurturing Fibres
Country Girl by Brenda Grobler copyright Brenda Grobler 
Coastal Breeze by Yuli Nilssen copyright Yuli Nilssen
Marla Sweater by 'Greenxbird' copyright Greenxbird
Short sleeved sweater by Jane Green copyright beautifulcrochetstuff.com
Kawasaki top by Carmen Jorissen copyright Crafty Queens 
As you can see there are some great sweaters and shirts out there! I hope you feel inspired to give crochet sweaters a go 🙂
You'll hear from me soon, when I reveal my own crochet sweater design!