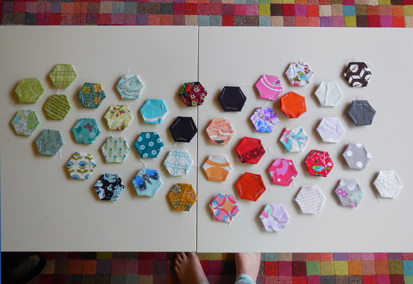 Once in a while you see things on pinterest that you really want to make, like, right now! I got that 'gotta make that right now!' moment last friday. I saw this beautiful quilt made by nicole from 'Modern Handcraft'
I knew would be perfect on our empty bedroom wall. With a thumbs up from the boyfriend I started searching for fabric online. Turns out I have tons and tons of fabric in my stash! *oops*
Last sunday I started sorting the fabric and cutting little squares for the hexagons. On the blog was also the tutorial to make it, which was very convenient. As the tutorial stated I folded and tacked my little hexagons and pressed them so their shape would hold.
And aren't those things adorable?
I had some left over white sheet cotton I used in another quilt (still need to do a blog post about that one, since it's my favorite quilt ever!), that I cut in a rectangle. I cut the batting in roughly the same size.
I tacked down the hexagons in the way I wanted it, with some basting spray, carefully measuring where each hexagon needed to be, and started quilting.
I didn't use backing fabric because a: I didn't have anything I liked for the back that was a good size, and b: It's a wall quilt so we are never going to see that back anyway. Maybe a little blasphemous for all the die hard quilters out there, sorry.
The quilting took me a good afternoon to finish. Between empty bobbins and sore backs it went pretty quickly.
I love how it turned out! In the end it only took me 1,5 day to finish from start to end, and because I already had everything I needed in my stash (hurray for hoarding, right?!), it didn't cost me anything! Now those are quilts for my liking 🙂
You can see how it is quilted; through all the points. It was very difficult to get straight lines and the hexagons to line up. If you look closely you can see it's not always the case. Really, it doesn't bother me.
I'm so glad we don't have a big boring white wall in our bedroom anymore!
Do you have any projects, you thought would take a lot of time, but was really quick to make?