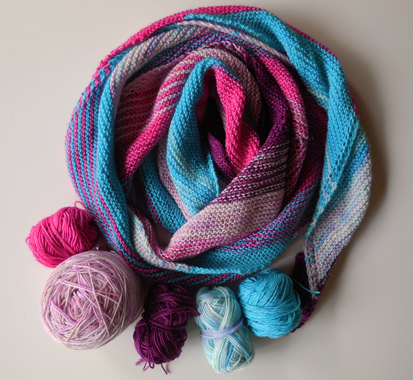 In the last blog post I said I was reading a lot, because the warm weather wouldn't let me knit or crochet. Well, boy did the weather change! The temperature dropped more than 10 degrees Celsius in a few weeks!
This, however, created opportunities for me to pick up a WIP I was working on. Call me crazy, but I was actually knitting a scarf mid-summer. I saw a shawl someone was showing off on reddit, and couldn't resist casting on my own!
The pattern is simply called 'MKAL spring 2014' by Cheri McEwen. You can find it on ravelry and it's totally free!
I like that it has different color sections, creating a hue shift appearance. I love hue shifts. You can alternate between as much colors you like, and use up whatever you have left in your stash. The original pattern calls for three colors, but I went with five, because of said de-stashing.
I used:
The infamous astashaddicts 'unicorn hair' (she doesn't dye anymore unfortunately). I used this yarn for my first ever socks and 'the drawstring delight'.
regia's 'my first regia' in the colorway 'luca'. I also used this yarn for socks and 'the drawstring delight'.
Easyknits 'purple queen' which I had left over from one of my shrugs.
Easyknits sock club 13 in the colorway 'see sells sea shells'. (No, I don't understand that sentence either) Two skeins, one pink and one blue.
Edit: I meant easyknits not knitpicks. Sorry!
I still have some left over to make a complementary hat or some other head piece.
I soaked it in warm water with some vinegar for softness. This is still sock yarn, so it's not meant to be worn around the neck. Vinegar acts like a fabric softener.
I love that the pattern doesn't have those endless rows of simple knit stitches, because after the first base triangle, you are decreasing for the 'teeth'. It can only become less as you go. I like anything that becomes less trouble as you progress.
Another feature I love is the shape; It reminds me of bird wings, more so if you only do the first row of every new tooth in a darker color, acting like shadows, and do the rest in one solid color (a new shawl in the making maybe?)
All in all it was very easy to follow, only using yarn overs as increases and K2tog as decreases. It couldn't be easier! Because of the color changes you can put your own twist to it, and keep it interesting all the way through.
It took me longer to complete than normal, because of the weather reasons. There was no obvious deadline other than 'before fall', but it looks like fall right now, so maybe it's a good thing I've finished earlier!
You wont hear me complain about the weather, since I'm (and a lot of people with me) more productive when temperatures are cooler. On to the next project!