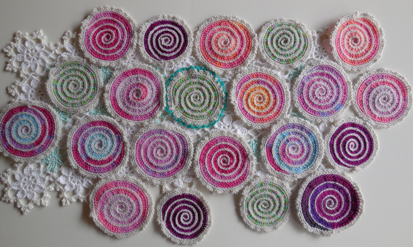 It all began a few weeks ago when Wink posted a WIP of her project, using the pattern 'when alice fell' made by charissa from Madmadme. It was only 2 dollars then and I knew I had to make one for myself.
Charissa made the pattern for the design wars challenge and won 'best overall design'. This really isn't a surprise to me, because the wrap she created with her pattern is absolutely beautiful! I saw it back then and instant love ensued. With my old love for the pattern and the discount (dutch sure love a good discount 🙂 ) it was an easy decision to put my hooks to work with it!
I liked the way Charissa used color-changing yarn for the circles, so I wanted to have that same effect. I jumped in my yarn cabinet ( not literally of course) and searched for something similar. Fortunately I had some leftover sockyarn  (for the small version) from other projects, that was enough to make all the circles. I also used some sand colored acrylic yarn to make the spirals and my handdyed teal yarn to join the spirals together. I really like natural colors with bold ones like the teal. Put some pink, orange, purple and green in the mix and there you have one of my favorite color combinations 🙂
As far as the pattern goes; it's really simple if you use a stitch marker and have worked in the round before. I did all my circles first before making the overlay spirals, weaving in the loose ends as I went so I wouldn't have a gazillion ends to weave in after. The spirals were very quick as well. I crocheted the overlay spiral pattern until the second round, so I could use the teal to crochet it all together in the third round.
I made some adaptions to the edging pattern, so it would be more solid (and at the neckline, more straight). I also knew I would never actually wear a wrap, which would be quite an obstacle, so I overcame it by making it into a poncho by adding a button band at the front.
As you can see here I made the neckline more straight using triple crochets at the lowest point of the circles. The red stitch marker marks where I wanted my neck line to end and the button band to begin, this is my center front. I joined the circles like I would if I made the wrap. 
For the buttons I used the same wooden ones I also used for the 'mini skein wonders'. Those really match well with all things handmade!
Fast forward a few weeks and you have a gorgeous poncho! 
My sisters hair matches the poncho really well 🙂 
I chose for a button band, so that if I ever decide (for whatever reason I don't know) I want it to be a wrap; it's a wrap
I'm really pleased with how it worked out. It is very warm and snugly and would be perfect to put over a winter coat when it is that time of year. I'm sure with the brightness of it, it will surely make some heads turn 🙂 I don't mind. the color combination just screams "me!".
What is your favorite color combination?