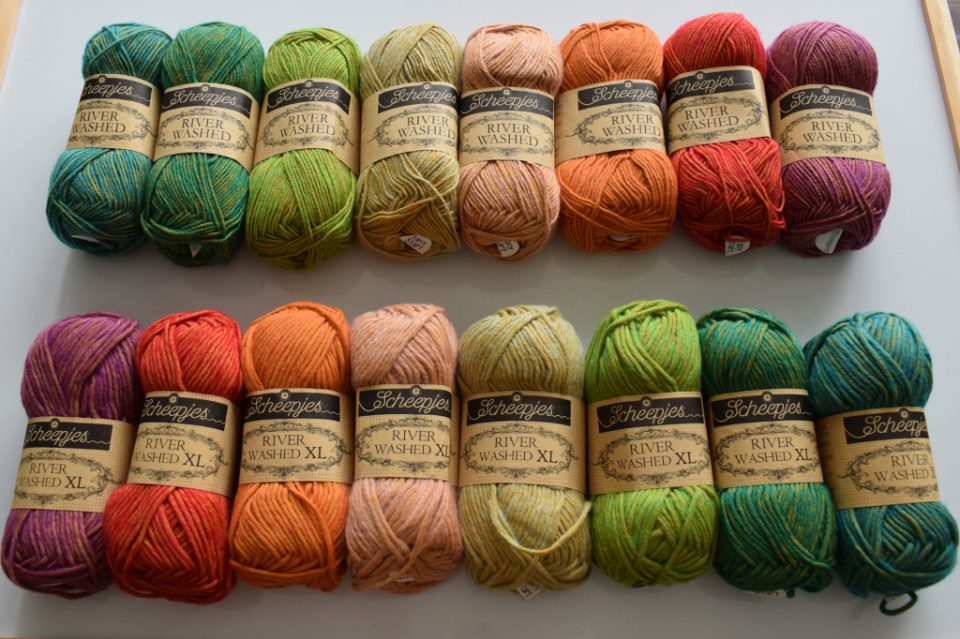 Oh how I love Scheepjes Stone Washed and River Washed* and how happy I am that Scheepjes has added more colors to the already stunning collection!
Oh wat houd ik van Scheepjes Stone Washed en River Washed* en hoe blij maakt het me dat Scheepjes meer kleuren heeft toegevoegd aan de bestaande kleurencollectie! 
(Photo: 958, Tiber)
So what's new? Scheepjes Stone Washed has a white cotton thread covered with colored acrylic fluff. The River Washed is different in that the cotton threads aren't white but blue or a reddish magenta. Now there's a third color added, because the new River Washed colors all have a mustard-yellow colored thread <3 It makes for very fresh and vibrant colors and I absolutely love it!
Wat is er nieuw? Scheepjes Stone Washed heeft een wit katoenen draad met gekleurde acrylpluis eromheen. De River Washed is anders in de zin dat de katoenen draden niet wit maar blauw of rood/magenta zijn. Scheepjes voegt daar nu een derde kleur aan toe, want de nieuwe River Washed kleuren bevatten namelijk een mosterd-geel gekleurde katoenen draad. Het geeft de kleuren een fris uiterlijk en ik vind het echt geweldig mooi! <3 
(Photo: 955, Pho)
The River Washed matches the thickness of the Stone Washed, so they can be used in the same project.
De River Washed heeft dezelfde dikte als de Stone Washed, dus ze zijn uitstekend met elkaar te combineren. 
(Photo: 962, Narmada)
And the River Washed XL has the same thickness as the Stone Washed XL, which also comes in the new colors.
En de River Washed XL heeft dezelfde dikte als de Stone Washed XL, en die wordt ook geleverd in de nieuwe kleuren. 
If you are a green fan like me, you can eat your heart out, because the two new green shades (962 Narmada and 955 Pho) compliment the existing green range fabulously <3
Als je een groene fan bent, net als ik, dan kan je je lol op, want de twee nieuwe groentinten (962 Narmada en 955 Pho) vullen de bestaande kleuren goed aan <3 
Blue fans can get some extra fun with the added blue shade (958 Tiber, which could just as well be put next to the greens). And lovers of reds and naturals are not left behind, because Scheepjes has also added some lovely shades of orange, red and naturals to the existing collection <3 (959 Ural, 960 Murray, 961 Mersey and 956 Avon)
Fans van blauw kunnen wat extra plezier beleven met de toegevoegde blauwtint (958 Tiber, die trouwens net zo goed bij de groentinten kan). En als je echt van rood en natuurtinten houdt, dan wordt je niet vergeten, want Scheepjes heeft ook wat prachtige oranje-, rood- en natuurtinten toegevoegd aan de bestaande collectie <3 (959 Ural, 960 Murray, 961 Mersey en 956 Avon) 
And lastly, a stunning warm purple is added to the mix! (957 Eisack) I think Scheepjes has done well with the colors they picked. And as you can see, they compliment the existing range stunningly! If you want to see all shades of River Washed, please see this page.
En als laatste is er ook nog een warme paarstint aan de mix toegevoegd! (957 Eisack) Ik vind dat Scheepjes erg goed hun werk heeft gedaan met de kleuren die ze hebben uitgekozen. En zoals je kunt zien, vullen ze de bestaande collectie erg goed aan! Als je alle kleuren River Washed wilt zien, dan kun je die op deze pagina vinden.  
Buy this yarn / Koop dit garen
The new River Washed shades are available in stores from today. If you don't have a Scheepjes retailer nearby, please consider buying your Scheepjes yarn via one of the links below. It will give me a small commission, but it won't cost you anything extra.
De nieuwe River Washed kleuren zijn vanaf vandaag verkrijgbaar. Als je geen Scheepjes verkooppunt dichtbij hebt, overweeg dan je Scheepjes garen via onderstaande link te kopen. Hiervoor krijg ik een kleine commissie, terwijl het jou niks extra's kost. 
Canada/US: Knotty House
UK/International: Wool Warehouse or Black Sheep Wools
Benelux: Caro's Atelier
List of all / Lijst van alle Scheepjes retailers: Scheepjes website
****************************************************************************************************************************************************************************
If you don't want to miss any of my posts, please follow me on Facebook, Instagram (@aspoonfulofyarn) or subscribe via email at the bottom of this page.
Als je geen enkele post wilt missen, volg me dan op Facebook, via Instagram (@aspoonfulofyarn), of schrijf je in via email aan de onderkant van deze pagina.
****************************************************************************************************************************************************************************
*Affiliate disclaimer
This post contains affiliate links. When you click this link and purchase something, I will get a small commission, but it will not cost you extra money. This way you can support my blog and I can keep making free patterns.
Deze post bevat affiliate links. Als je op deze link klikt en iets koopt, krijg ik een kleine commissie. Op deze manier kan je mijn blog steunen, terwijl het jouw niks extra's kost. Hierdoor kan ik doorgaan met het maken van gratis patronen.