Even though we're still in Winter, and Spring is on our doorstep, I secretly long for Fall again. The beautiful warm colors of the leaves, the wonderful forest walks, bathing yourself in Nature. It really is my favorite season <3
Ook al zitten we nog steeds in de Winter, en staat de Lente ons al op te wachten, ik verlang eigenlijk stiekem toch een beetje terug naar de Herfst. De warme kleurenpracht van de blaadjes, de mooie boswandelingen, jezelf onderdompelen in de Natuur. Het is echt mijn favoriete seizoen <3
So when I chose yarn for my next project, I chose this gorgeous Scheepjes Whirl* in the color Rosewater Cocktail! As the center reminded me of the breathtaking hues of Fall. As you can see below, it was rather hard to choose from all those gorgeous gradients, but I managed in the end : D
It comes in cakes of approximately 215 grams and has a whopping length of 1000 meters. This means one cake is enough for a shawl or small blanket! I already used it for my Spotting Clouds top and as the fiber content is 60% cotton and 40% acrylic, it's very nice to work with. The cotton gives it its natural feel, while the acrylic makes sure the yarn is not too heavy or stiff <3
Dus toen ik garen koos voor mijn volgende project, koos ik voor Scheepjes Whirl* in de kleur Rosewater Cocktail! Omdat het midden me deed denken aan die prachtige tinten van de Herfst. Zoals je hieronder kunt zien was het erg lastig te kiezen tussen al die super mooie combinaties, maar ik denk dat het me goed gelukt is : D
Het garen komt in 'cakes' van ongeveer 215 gram en heeft een looplengte van een ongelofelijke 1000 meter. Dit betekent dat 1 cake genoeg is voor bijvoorbeeld een hele sjaal of een kleine deken! Ik heb het al eens gebruikt voor mijn Spotting Clouds top en omdat het garen een vezelsamenstelling van 60% katoen en 40% acryl heeft, is het erg fijn om mee te werken. Het katoen geeft het een natuurlijk gevoel en uitstraling, terwijl het acryl ervoor zorgt dat het project niet te zwaar of stijf wordt <3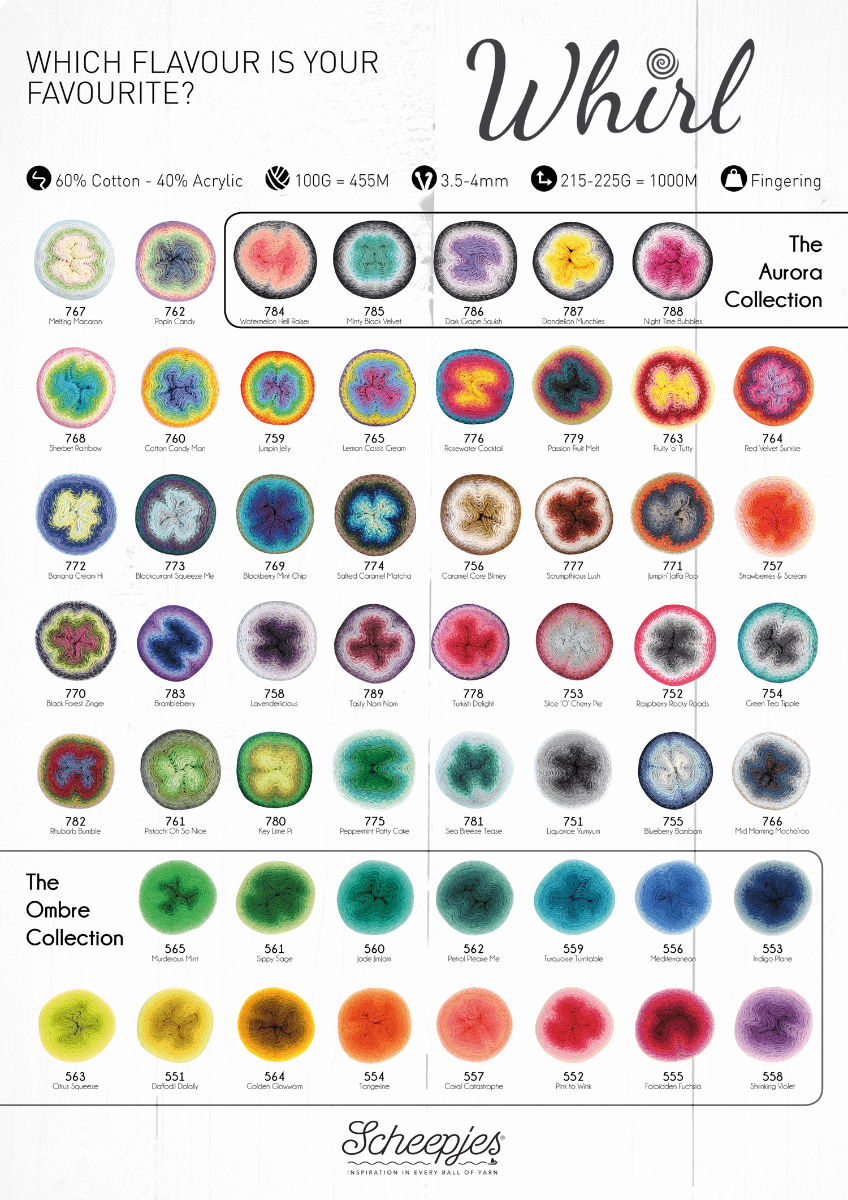 Next to the whirl, I also picked two cakes of Scheepjes Whirlette* in the shade Bilberry, a very rich dark blue which will make the Whirl gradient pop. Whirlette is the little sister yarn of Whirl, which is made of the same thread, but in a solid color instead of a gradient.
Naast de Whirl, heb ik ook twee cakes van Scheepjes Whirlette* gekozen in de kleur Bilberry. Een rijke donkerblauw die het kleurverloop van de Whirl mooi zal laten uitkomen. Whirlette is het kleine zusje van Whirl, gemaakt met hetzelfde garen, maar in één kleur in plaats van kleurverloop.
If you want to try this yarn for yourself, but don't have a retailer nearby, please consider buying your Scheepjes yarn via one of the links below. It will give me a small commission, but it won't cost you anything extra.
Als je dit garen zelf uit wilt proberen, maar je hebt geen winkel dichtbij, overweeg dan je Scheepjes garen via onderstaande link te kopen. Hiervoor krijg ik een kleine commissie, terwijl het jou niks extra's kost.

UK/International: Wool Warehouse or Black Sheep Wools
Benelux: Caro's Atelier
I hope to show you my new project soon : ) So if you don't want to miss any of my posts, please follow me on Facebook, Instagram (@aspoonfulofyarn) or subscribe via email at the bottom of this page.
Ik hoop snel meer te kunnen laten zien van mijn nieuwe project : ) Dus als je geen enkele post wilt missen, volg me dan op Facebook, via Instagram (@aspoonfulofyarn), of schrijf je in via email aan de onderkant van deze pagina.
************************************************************************
*Affiliate disclaimer
This post contains affiliate links. When you click this link and purchase something, I will get a small commission, but it will not cost you extra money. This way you can support my blog and I can keep making free patterns.
Deze post bevat affiliate links. Als je op deze link klikt en iets koopt, krijg ik een kleine commissie. Op deze manier kan je mijn blog steunen, terwijl het jouw niks extra's kost. Hierdoor kan ik doorgaan met het maken van gratis patronen.