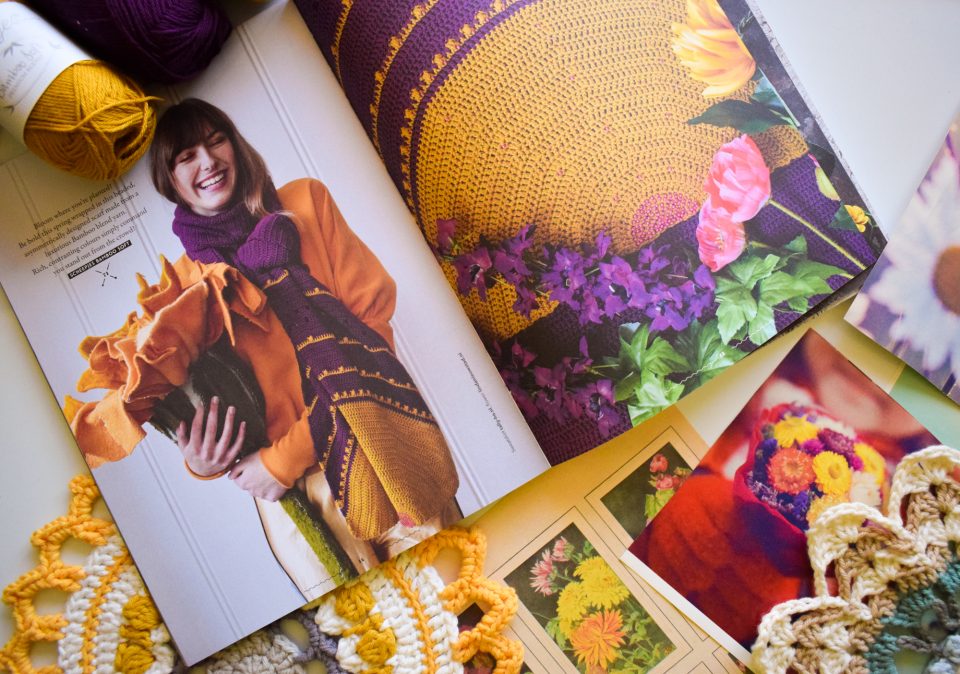 It has been a while since I contributed to YARN bookazine. The last issue for me was YARN 9 with the theme Now Age, for which I designed the Tree hugger scarf. YARN 11 has the theme Macro Botanica and as I LOVE anything nature, this theme really spoke to my heart <3
Het is al weer een tijdje geleden dat ik iets voor een YARN bookazine ontwierp. Het laatste issue voor mij was YARN 9 met het thema Now Age, waarvoor ik de Tree hugger scarf maakte. YARN 11 heeft als thema Macro Botanica en omdat ik echt VERLIEFD ben op alles wat met de natuur te maken heeft, sprak het thema me erg aan <3
For this YARN I designed the Blooming Wrap. I was inspired by the blooming of flowers. How they expand from little seed to gorgeous flower. How their petals reach up to the sky and grow outward with each passing moment. Catching precious sunlight <3
Voor deze YARN heb ik de Blooming Wrap ontworpen. Ik heb me laten inspireren door het bloeien van bloemen. Hoe ze groeien van klein zaadje naar prachtige bloem. Hoe hun blaadjes naar de lucht rijken en verder uitgroeien met elk nieuw moment. En hoe de blaadjes kostbare zonnestralen opvangen.
The beads in the design are inspired by morning dew drops on soft petals and are spread out over the first section of the wrap.
De kraaltjes in het ontwerp zijn geïnspireerd door de dauwdruppels die in de ochtend op de zachte blaadjes liggen en zijn verspreid over het eerste deel van de wrap meegehaakt.
The wrap is made with Scheepjes Bamboo Soft*. A wonderful soft yarn with a bamboo and cotton blend and an amazing drape. The gold and purple version uses the colors 260 Golden Nugget and 250 Decadent Plum. It also uses pink Toho glass beads in color PF563F.
The orange and blue/green version uses colors 261 Regal Orange and 258 Jade Lapis. And electric blue/purple Toho glass beads in color 938.
The wrap is gemaakt met Scheepjes Bamboo Soft*. Een geweldig zacht garen met een bamboe en katoen blend die prachtig drapeert. De goud/paarse versie is gemaakt met kleuren 260 Golden Nugget en 250 Decadent Plum. Verder worden er roze Toho glaskralen gebruikt in de kleur PF563F.
De orange blauw/groene versie gebruikt de kleuren 261 Regal Orange en 258 Jade Lapis. En blauw/paarse Toho glaskralen in de kleur 938.
Shop yarn for the Blooming Wrap
If you'd like to buy Scheepjes Bamboo Soft for this project, but don't have a Scheepjes retailer nearby, please consider buying your Scheepjes yarn via one of the links below. It will give me a small commission, but it won't cost you anything extra.
Als je Scheepjes Bamboo Soft wilt aanschaffen voor dit project, maar als je geen Scheepjes verkooppunt dichtbij hebt, overweeg dan je Scheepjes garen via één van onderstaande links te kopen. Hiervoor krijg ik een kleine commissie, terwijl het jou niks extra's kost.

UK/International: Wool Warehouse or Black Sheep Wools
Benelux: Caro's Atelier
List of all / Lijst van alle Scheepjes retailers: Scheepjes website
Excited to see all the designs in YARN 11: Macro Botanica? You can find this latest issue at Wool Warehouse*, Habbedash* and Caro's Atelier*. You can find a full list of Scheepjes retailers here.
Benieuwd welke ontwerpen er nog meer staan in YARN 11: Macro Botanica? Je kunt deze nieuwste editie vinden via Wool Warehouse*, Habbedash* en Caro's Atelier*. De volledige lijst met Scheepjes retailers vind je hier.
If you don't want to miss any of my posts, please follow me on Facebook, Instagram (@aspoonfulofyarn) or subscribe via email at the bottom of this page.
Als je geen enkele post wilt missen, volg me dan op Facebook, via Instagram (@aspoonfulofyarn), of schrijf je in via email aan de onderkant van deze pagina.
************************************************************************
*Affiliate disclaimer
This post contains affiliate links. When you click this link and purchase something, I will get a small commission, but it will not cost you extra money. This way you can support my blog and I can keep making free patterns.
Deze post bevat affiliate links. Als je op deze link klikt en iets koopt, krijg ik een kleine commissie. Op deze manier kan je mijn blog steunen, terwijl het jouw niks extra's kost. Hierdoor kan ik doorgaan met het maken van gratis patronen.