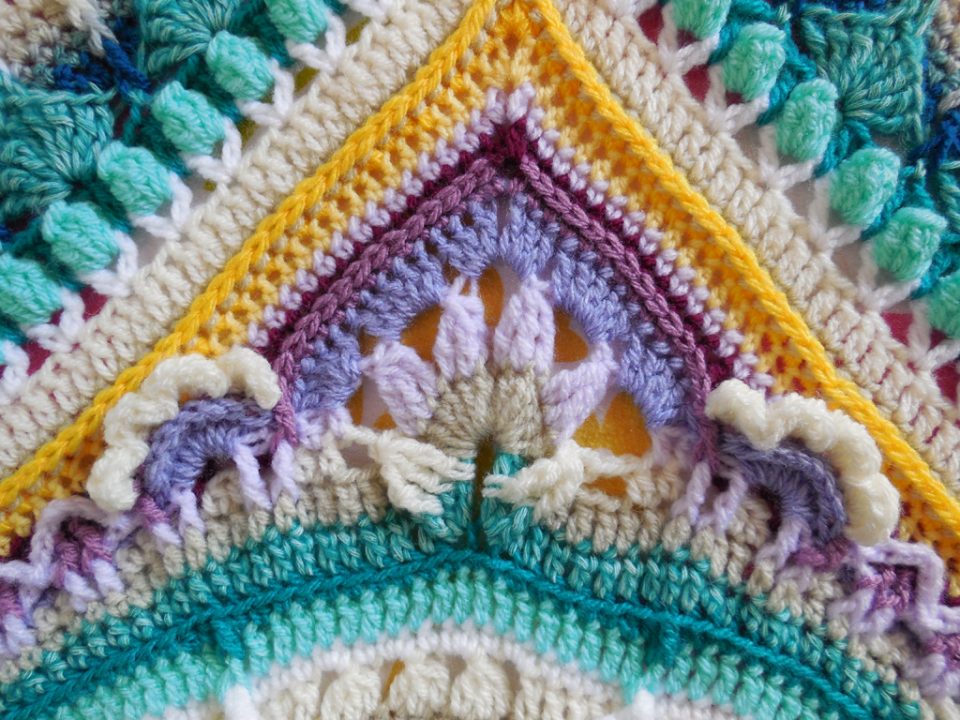 I don't remember where I first saw it but I found out about the cal in late march and fell in love instantly.  They were already 3 months in! I really didn't think I would catch up with the rest of the group. I put my crochet gear in fifth and got all up in this cal business. As the end result it only took me  1,5 months to complete, working on it almost every day. This must be some kind of personal record! I was so busy wiggling my stick that I forgot about my blog entirely! I kind of love that that happened, because it meant I really enjoyed myself.
People who follow me on instagram might have already seen some progress pics of my 'sophie'. For the people who didn't; Here is the end result 🙂
Some background info: My boyfriend is almost 2 meters and he had some serious trouble keeping it off the ground! He also had a problem with keeping it wide. I'm lucky that I don't have a tiny boyfriend. That wouldn't have worked at all, haha
I learned so much from this project. I've been crocheting for 5 years now, and I learned more in those 1.5 months working on this, than in my entire 'crochet career'. The instructions were absolutely clear, with step by step photo's for every row, making it easy to see if you're doing it right. The pattern is just outright awesomely written!
It all began with this mandala. Isn't it pretty?
Originally I wanted to make it for our bed, but as much as I like the color combination, it's just not suited for our room. So now 'she' resides in the guest room 🙂
The entire time I was crocheting 'sophie' I felt like I wasn't making 'just a blanket', I was making an heirloom piece. Something to pass on to your children, while they frown upon the colors thinking; 'were those really the colors back in 2015!?' Yeah, I really want it to be that kind of piece 🙂 I'll let you know when that happens 😉
Some usefull stats:
Yarn: Scheepjes roma > 11 different colors, Scheepjes stonewashed regular > 1 color (See ravelry page for full info on yarn), 3 balls each
Crochet hook: 5 mm
Size made: the biggest version. I stopped one row short of finishing part 17 (there are 18 parts). I didn't want to buy more yarn, since the last rows really eat up a whole ball it went pretty fast!
Pattern: Sophie's Universe, Pattern can be found here, courtesy of Dedri Uys and Kimberly Slifer. It will remain there indefinitely, so there's no need to rush to get the pattern.
Skill level:  No matter your skill level, if you want to do it, go for it!